The seventeenth ninth edition of the prestigious Titans of Tech Business Roundtable and Hall of Fame Awards is scheduled to hold July 23rd, 2021 at Eko Hotel, Victoria Island, Lagos.
Speaking to newsmen in Lagos, Don Pedro Aganbi, Managing Consultant, TechTV, noted that "In a world that is increasingly characterized by enhanced connectivity and where data is as pervasive as it is valuable, Nigeria has a unique opportunity to leverage new digital technologies to drive large-scale transformation and competitiveness. Nigeria cannot and should not be left behind".
He revealed that there are 10 key enabling technologies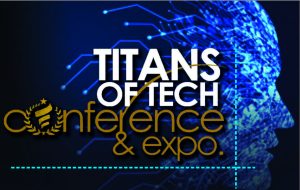 that will drive Africa's digital economy, including cybersecurity, cloud computing, big data analytics, blockchain, the Internet of Things, biotechnology, robotics, energy storage, and AI.
According to him, "The theme of this year's Titans of Tech conference "Harnessing the Potential of AI, IoTs for Transformation of the Digital Economy" was chosen specifically to highlight the fact that to achieve a truly digital transformation, investments should not only be massively encouraged but also proactively protected.
"The consensus among industry expert is clear, AI will change the world and be ubiquitous in the emerging digital economy. Its major gains would be focused on productivity, efficiency, automation and costs, enabling individuals, businesses and indeed the whole country to capitalize on the digital economy. This is the opportune time for businesses and governments at all levels to seek to understand and then take a position to harness the gains of AI and the digital economy. The NCC and NITDA is the chief proponent of the digital economy in Nigeria. Aganbi stated.
Aganbi noted that the Titans of Tech 2021 will go a long way to engender further growth of Nigeria's telecommunications sector and indeed ICT market, which has experienced phenomenal growth in the last decade.
The conference will afford participating firms and individuals ample opportunities to reveal the extent of their investment in Nigeria and the growing need to promote access to broadband across the country.
The ICT enthusiast noted that Titans of Tech 2021, that the power of technology to propel progressive development and digital transformation is no longer in doubt. The growing application of artificial intelligence (AI) combine with key technologies such as the Internet of Things and Big Data Analytics holds the unprecedented potential for socio-economic development and national transformation.
Speaking further, he said "Today, Broadband, AI, loT, Big Data are already driving the provision of new and innovative services in the nation's ICT industry. The Titans of Tech Business Roundtable and Hall of Fame Awards is a veritable platform for government to present its plans/policies and the private sector to provide insights into opportunities, challenges, available solutions and options in deploying ubiquitous broadband, AI, loT and Big Data to support the emerging digital economy.
We believe it is imperative to continue to encourage the development of robust, reliable and affordable ICT infrastructure that supports and enables the provision of a multiplicity of applications and services to meet the needs of the country and its people".
Participants at the high-octane forum includes local and International Infrastructure Providers firms, policy makers in Government including Ministry of Communications and digital economy, Ministry of Science & Technology, National Assembly, Nigerian Communications Commission, NITDA, Ministry of Education, ICT Solutions Providers, top executives in the public and private sector organizations, decision makers in Banks and non-bank financial institutions, leading oil and Gas industry operators, international Funding and Development Agencies and ICT consultants and content providers.
The conference is meant to engender further growth of Nigeria's telecommunications sector and indeed ICT market, through the provision of a platform for constructive dialogue and opportunity to network and to influence policy.