itel, one of Africa's notable mobile phone brands, has announced the itel P40 as the newest mega battery addition to its flagship power smartphones series.
itel understands that smartphones are becoming increasingly indispensable to consumers, and this has led to the birth of the itel P40. The itel P40 which is tagged '1 Charge For 3 Days' is a 6000mAh big battery smartphone designed to meet users' needs.  With the P40, consumers get longer hours of fun with a large storage and a sleek design for the young and trendy.
Compared to 2022's itel P38, the itel P40 is a bigger, better, and more powerful device with cooler features at a super-affordable price.
Enjoy A 6000mAh Battery With 18W Fast Charge On itel P40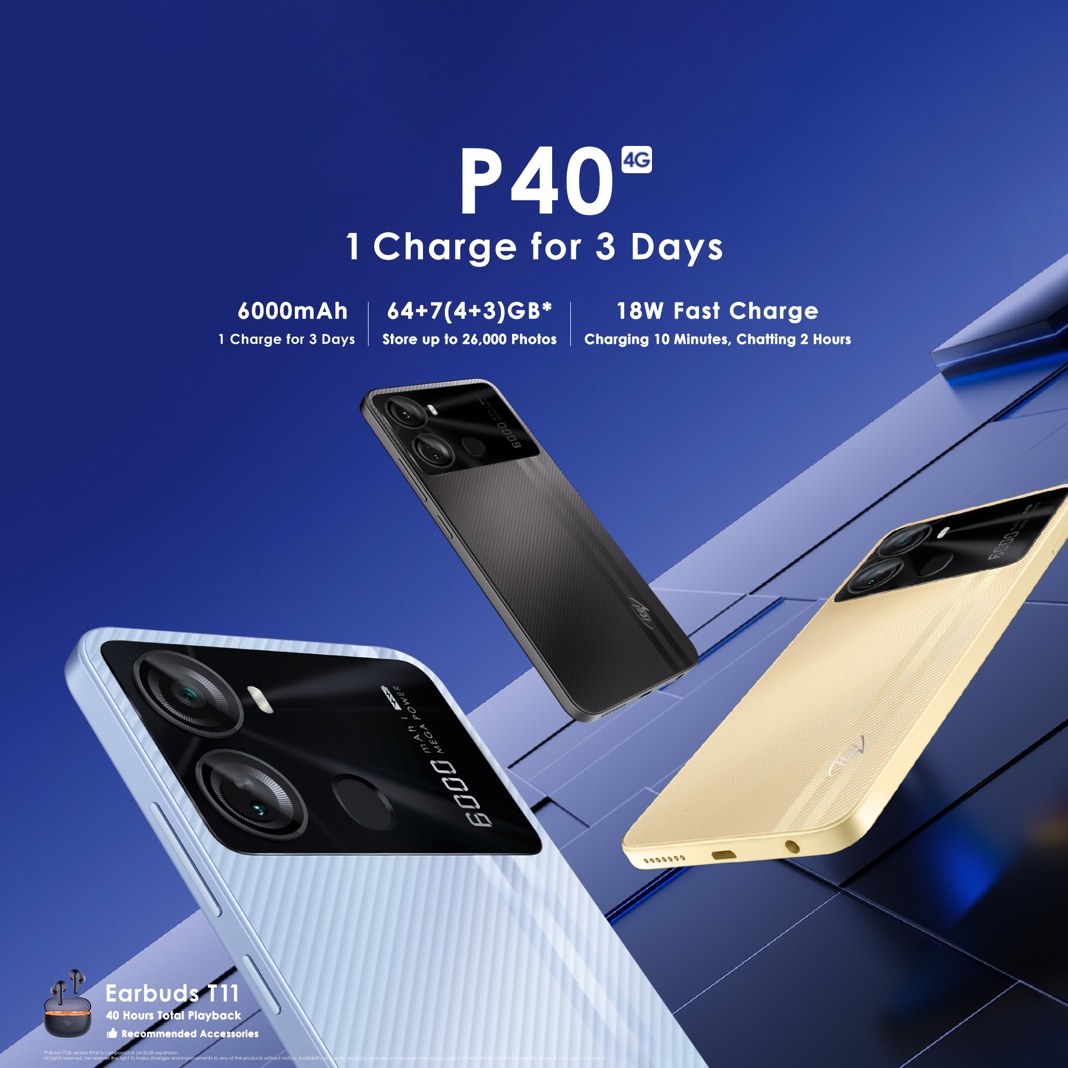 The itel P40 has a 6000mAh battery (the first of its kind from itel) with 18W fast charging technology. Packed with a lithium-ion polymer battery with a non-removable internal battery to support 32 hours of continuous phone calls, 57 days standby, 204 hours of continuous music playback, 28 hours of continuous video playback, 21 hours of chatting, and 16 hours of continuous game play. itel P40 has a Battery Lab that optimizes the battery life, apps' power usage, and clears junk files from the phone.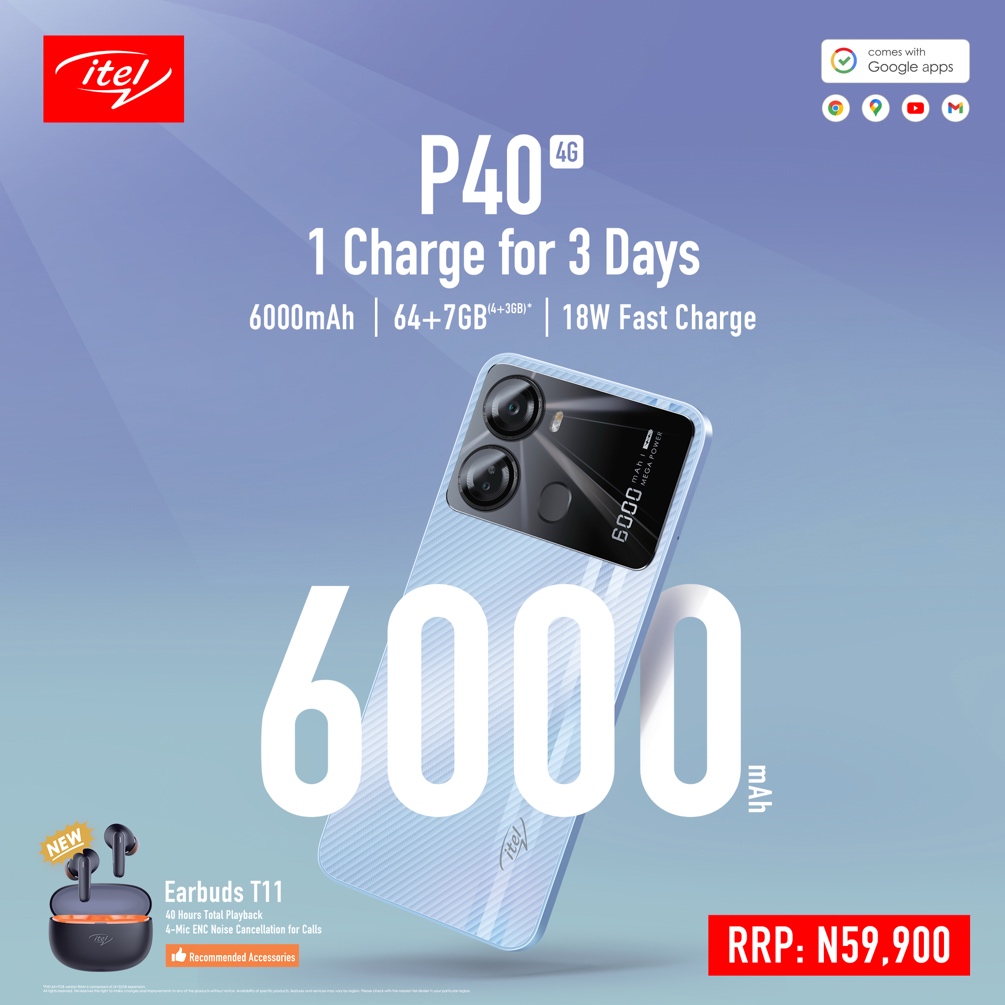 Users also get 18W fast charge with the itel P40. With a 10-minute charge, users can get 2 hours of WhatsApp calls. The itel P40 charges 3 times faster than regular smartphones and lets users save 4 hours on a full charge. Everything on the smartphone has been upgraded for optimum enjoyment.
Enjoy a 64GB Expandable Large Memory On itel P40
For users who have a big need for a large storage and like to store everything nice, the itel P40 is the perfect choice. It is packed with 64GB of storage and 7GB RAM (4GB+3GB extra RAM using Memory Fusion). itel P40's 64GB ROM can store 26,000 photos, 18,000 short videos, 600 TV series, and 200 movies. It can also allow between 48 and 72 apps to run simultaneously. Everything on the itel P40 is smooth, lag-free, and easy to use. The storage cleanup master app allows users to clear unneeded apps, software caches, and clean up junk files to create more space for what they want and need.
Enjoy an Advanced Appearance and Trendy Design On itel P40
Users can also enjoy a large 6.6-inch HD+ Waterdrop display with narrower bezels and a 90% screen-to-body ratio. With the 2.5D tempered glass on the screen, the itel P40's design is more three-dimensional and gives users a border-less and intriguing visual experience. Pictures and videos are clearer and richer on the itel P40 due to its 1612*720 HD resolution and 72% color saturation.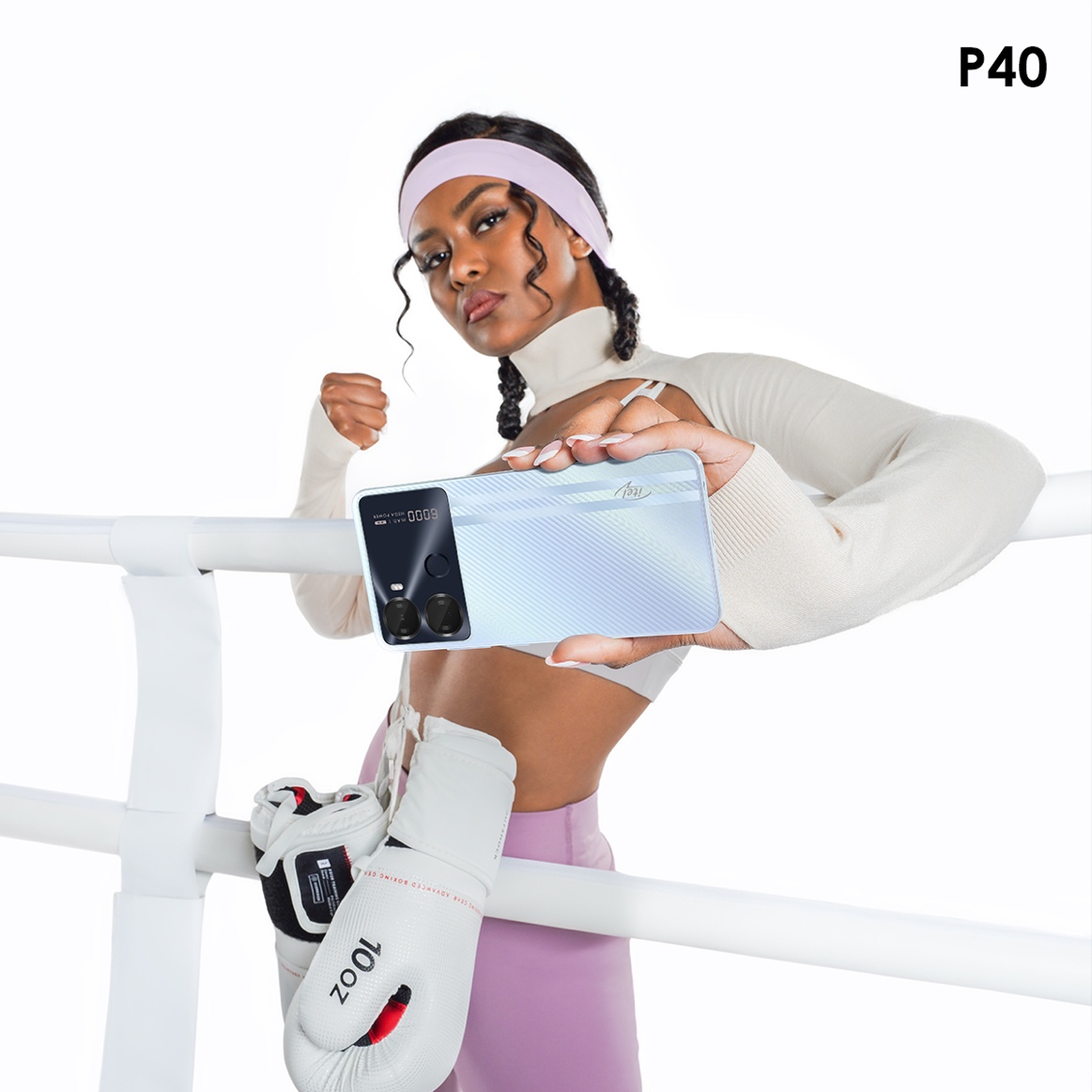 There's an extra-large double lens with faux racing wheel elements and a track touch stripe design to create a sporty feeling of power and speed on the back of the itel P40. The smartphone is 8.7mm slim, has a comfortable grip, is non-slip, and sweat resistant.
Get The itel P40 In Three Eye-catching Colours
Force Black. Luxurious Gold. Fantasy Blue. These are the beautiful colours of itel P40. There is a 13MP AI camera on the rear with 5 levels of AI beauty to make users more beautiful and handsome. The itel P40 is equipped with a strong 4G network, an octa-core processor, and itel OS 8.6 that brings a richer experience to users when they work, use social media, and play their favorite games.  The itel P40 is available for 59,900 naira in itel authorized phone retail stores near you.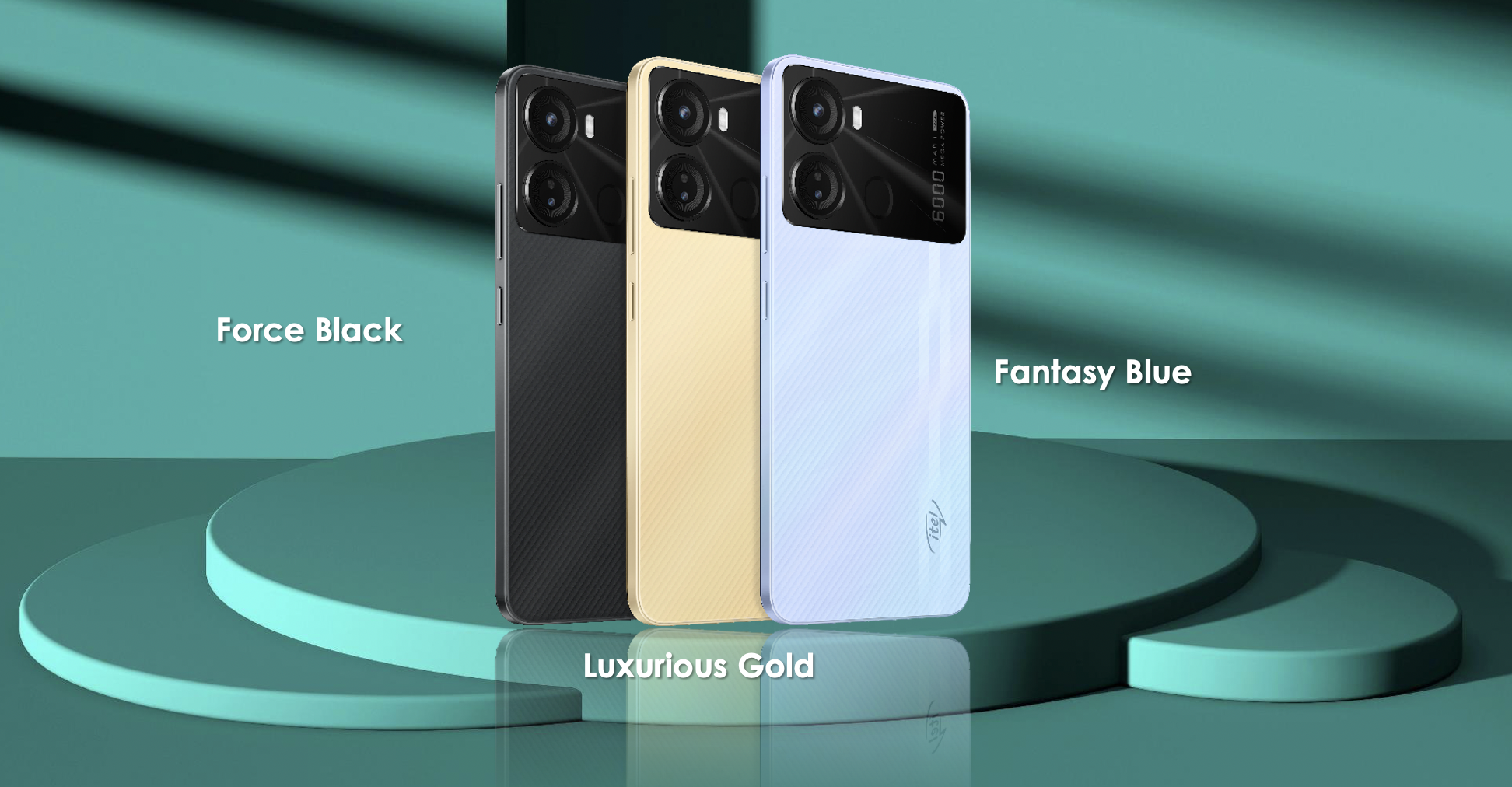 Enjoy 5GB (1.5+3.5GB FREE) On Your Airtel 4G Sim Card When You Purchase itel P40
itel has partnered with Airtel to bring an enticing offer for consumers. With 1,000 naira airtime recharge on their Airtel 4G sim card, users will get 5GB (1.5GB+3.5GB free) data from Airtel when they buy itel P40. Users are to SMS 'GET' to 141 to enjoy the offer.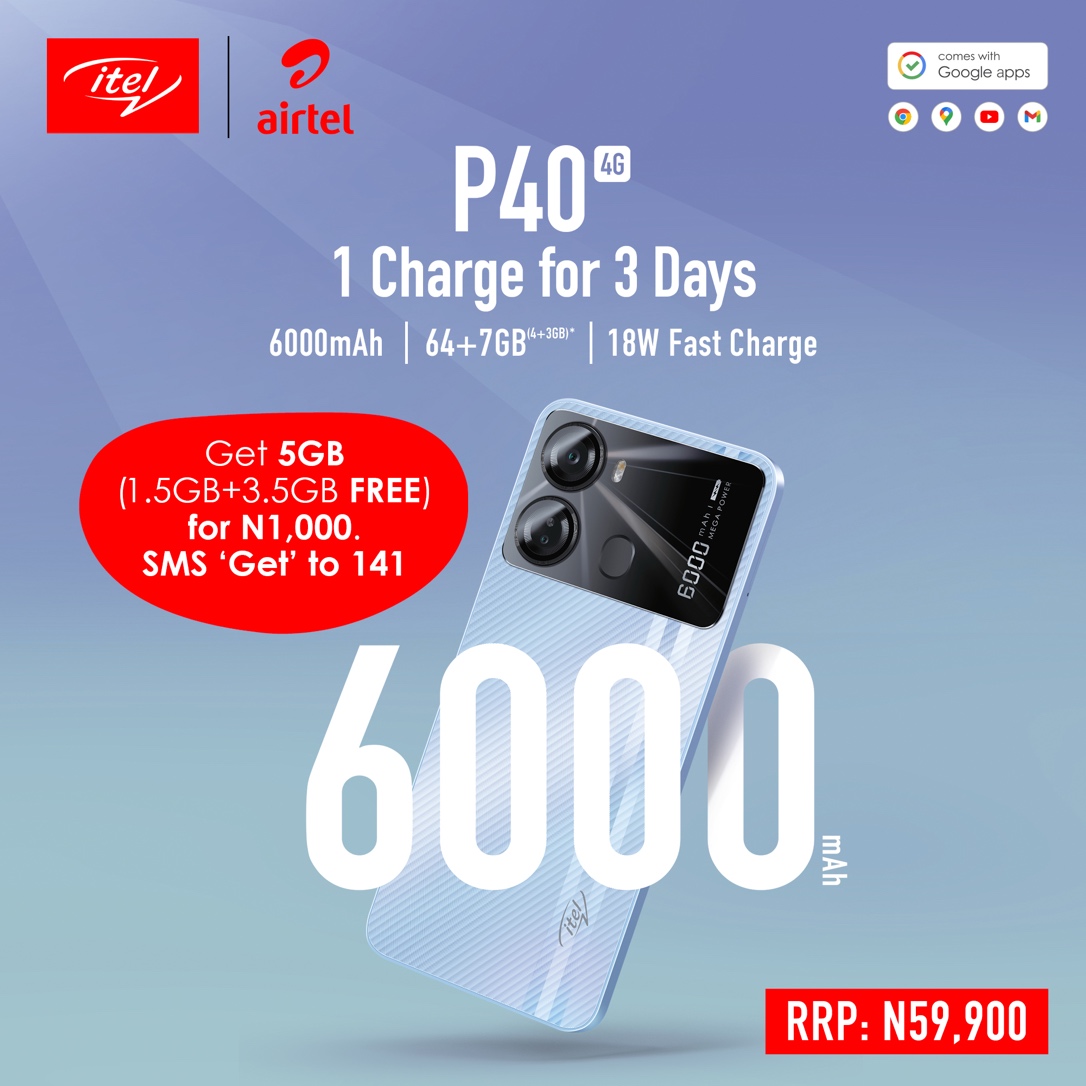 For detailed information on itel's activities, please visit @itelNigeria on Facebook, Instagram, and Twitter.