Apple Chief Executive Tim Cook has launched the company's first store in India on Tuesday, in financial capital Mumbai.
He will also attend the opening of a second store in capital city Delhi on Thursday.
Until now, Apple products have been available in India either online or through a vast network of resellers.
On Monday, Mr Cook tweeted that he "can't wait to welcome" customers to the new store in Mumbai.
Earlier in the day, Apple had given a preview of the store, which is located in an upscale neighbourhood of the city, to some bloggers and analysts. The store's design has been inspired by the black-and-yellow taxis that are ubiquitous in Mumbai.
Reports say hundreds of people are expected to visit the store on Tuesday.
The new stores come at a time when Apple is trying to deepen its retail push in India, the world's second largest smartphone market. The iPhone is still an aspirational product in the price-sensitive Indian market, where more than 95% of smartphones run on Google's Android platform.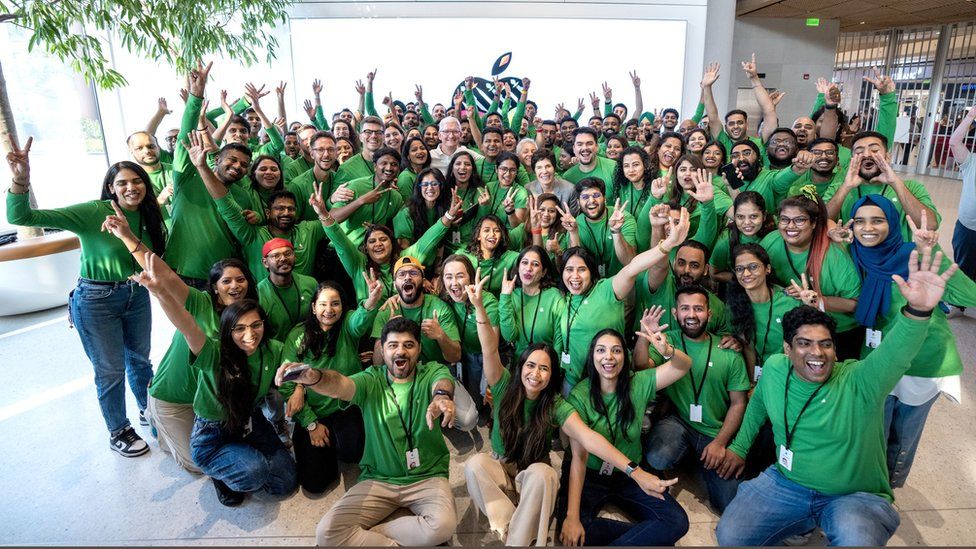 India is also rising as a manufacturing base for the iPhone as Apple diversifies its supply chains away from China. India now accounts for 5% of total iPhone production.
But experts say that while the stores are an important branding strategy, they won't have an immediate impact on Apple's sales in India. Others, however, have pointed out that it's a good time for Apple to invest in India's growing "premium smartphone" market – which refers to mobiles that cost 40,000 rupees (£451; $558) or more.
"When you launch an Apple store you're basically giving a premium experience to your premium consumers. It might not pull up sales but it definitely pulls more people into the Apple ecosystem," technology analyst Navkendar Singh told the BBC.
Apple has long tried to open physical retail stores in India. Its original plans for 2021 were derailed because of the Covid-19 pandemic.
This is Mr Cook's first trip to India in seven years – the Apple CEO last visited in 2016 when the tech giant was just beginning to scale up operations in the country.
On Monday, he shared a picture of himself eating a vada pav – a popular Indian snack – with Bollywood actress Madhuri Dixit.
Reports say Mr Cook is also expected to meet Prime Minister Narendra Modi and deputy IT minister Rajeev Chandrasekhar as part of his visit. There was no official announcement from Mr Modi's office regarding this.